20 Facts: Chris Sanders
on
March 9, 2013
at
10:16 pm
Let's talk about the best shot in the cast for a bit, now, shall we?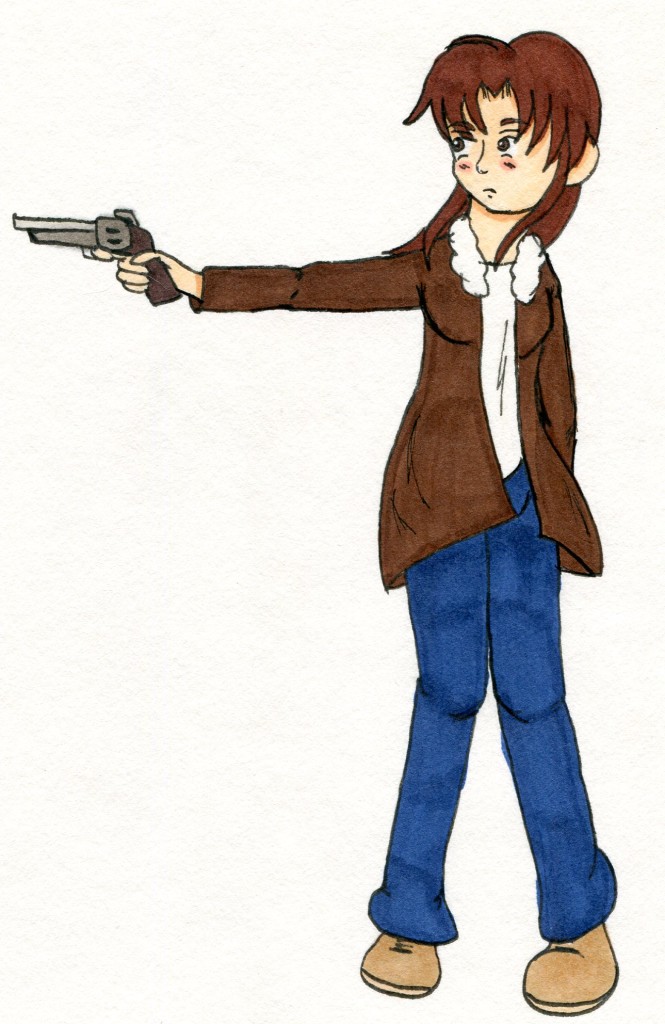 Chris learned marksmanship as a kid using BB guns before moving to real weapons when she was older. Her parents encouraged her in this pursuit as long as she was responsible. (She was.)
She started playing the guitar at an early age, as well, but her parents were much more vocal about this talent than her shooting ability for obvious reasons. (They were proud of both.)
Chris has two younger brothers and more than a few younger cousins. She's a fantastic babysitter.
She enjoys riding horses. She'd love to own one of her own someday.
Chris met Harvey when his reenacting group did an event at the historical society. They hit it off, began dating and eventually fell in love.
Sometimes Chris and Harvey go to a local shooting range on the weekends. It keeps them both sharp for competition target shooting, not that there are too many local competitions to enter in Northern New Jersey…
Chris occasionally plays the guitar and sings at a local bar. Harvey does his best to never miss a gig.
Chris takes on the role of older sister to Jessie, especially since Jessie can be somewhat naive and needs to be looked after.
Her mom calls her Chrissy. She never tells anyone else to call her this – not because she doesn't like it, but because it's between her and her mom and is  therefore special.
Chris's middle brother, Brody, is in the US Army. He may or may not get to train as a sniper in the future, but he does have his sister's gift for marksmanship.
She's really good at handling people, so she both handles the historical society's front desk and takes care of PR. Really, it's that no one else is normal enough to do it.
Chris adores old weapons, particularly old guns. She'd collect them for herself if she had more money and space, but for now she just helps Corey correctly catalogue the ones the historical society owns, including a reproduction of a matchlock.
She's really good at using reproductions of the above old guns and has been known to do firing demonstrations at the historical society time and again.
She drinks warm milk before bed every night. It's once again a comforting memory of her childhood.
Chris is Karen's backup when Rugen has them play paintball. She snipes people who threaten Karen whilst she's operating heavy machinery/weapons.
Although she plays an acoustic at gigs, Chris can play the electric guitar, too.
Chris loves iced tea, especially when it becomes an Arnold Palmer. Not that she golfs or anything.
Chris also loves using her slow cooker, especially in winter (because then the entire house/office smells like stew).
She dresses in a sort of Western fashion even though she's from New Jersey. She says it just fits her personality well.
Her favorite season is autumn – she loves the colors in the leaves and amazingly doesn't mind raking them up.