20 Facts: Jessie Parker
on
February 6, 2013
at
1:01 pm
She may be the cutest one there, but she's no pushover!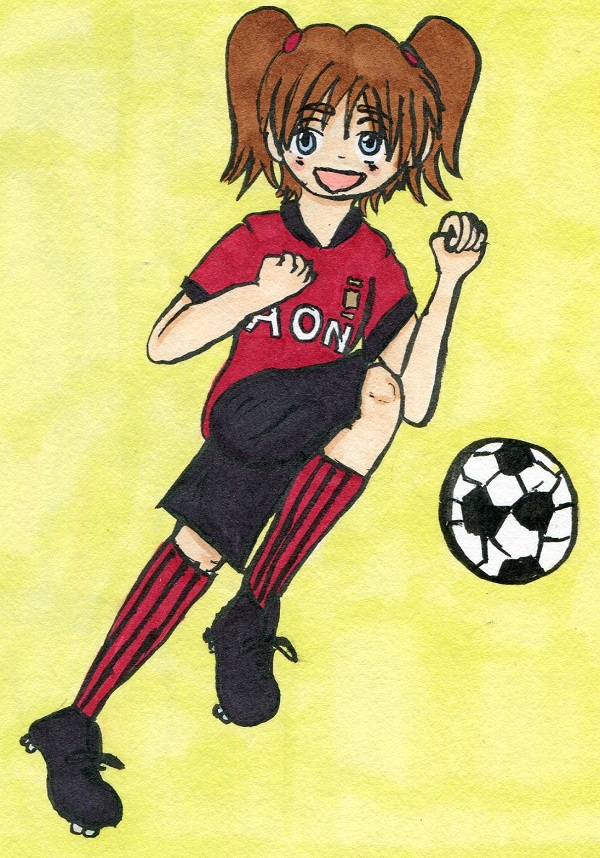 1. Favorite position to play? Jessie chose to play striker because her first crush (Ruud van Nistelrooy) did.
2. Name puns. She has an older sister named Sarah. Her parents thought they were being funny. Jessie and her sister disagree.
3. Glory, glory… She's been a Manchester United fan since she was able to get the FOX Soccer Channel as a little girl.
4. Pets! She wants to get pets someday and name them after United greats (Charlton, Beckham, Giggs, Ronaldo, Rooney, etc.).
5. It's for good luck! She's worn her hair in pigtails ever since she had a high-scoring match in them in middle school. She's superstitious.
6. I want candy! She loves Twizzlers and Skittles.
7. He's cute, but that's not all… Jessie likes Rico initially because she knows he'd be able to keep up with her and they'd be an amazing one-two striker punch at the front. She comes to eventually have stronger feelings once she gets to know him better.
8. I learned it on the internet! Despite not having much experience (read: none) in the area, she knows a lot about sex, which she attributes to reading romance novels and fanfiction.
9. I will go down with this ship. She ships her co-workers with people she thinks they should date.
10. That's how it works…right? Sometimes she gives out romance advice without really understanding how things work in the real world. This yields very predictable results.
11. Team spirit. When the EPL season starts up, she paints her nails red and gold.
12. At least I'm not heartless. She admits she's a total sap, but she says it's better than thinking love is stupid.
13. It feels like forever… She's been playing soccer since she was five.
14. Cheer up! She takes people out for ice cream when they get upset since her logic is that nobody can be completely sad after eating ice cream. (Ironically, Rico has a sweet tooth.)
15. Dream vacation. She wants to go to Old Trafford more than anywhere else in the world.
16. It even smells warm! In the winter, she bakes in the historical society's kitchen so that the entire building smells like cookies. (She shares with everyone, of course!)
17. The drama, the drama! She watches daytime soaps as she does her college homework.
18. Big sisters. Since her older sister has her own life now, Jessie looks up to Chris and Karen as surrogate sisters.
19. I like trains. Jessie is a public transit master since she commutes to school and work. She can decipher any train or bus schedule almost instantly.
20. Keep your chin up. Although she's not realistic about things, she tries to find a bright side in almost everything. She's a fundamentally happy person at her very core.