20 Facts: Bridget Gordon
on
November 4, 2012
at
5:25 pm
Bridget is a very patient woman. We know this because Bridget is dating Clarence. How she does it, we'll never know, but she's truly incredible.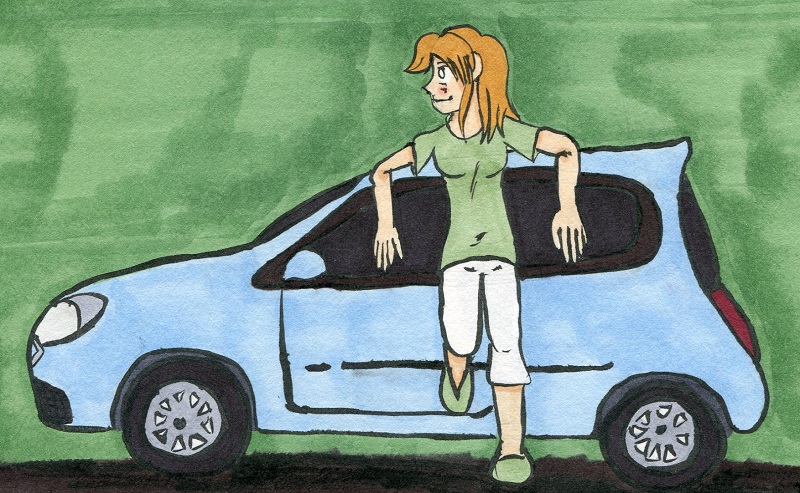 1. Tastefully refined. Bridget wears very tasteful clothing. She does this just to offset Clarence.
2. Speed freak. She loves racing and goes karting in her spare time. This has turned her into a very good driver (and has made Clarence decide he has to beat her).
3. Don't tell anybody, but… In her early years of secondary school, she designed a hovercraft. She's really embarrassed about this because she knows now that the design would never actually work.
4. BOOM! She secretly enjoys explosions. She has a feeling it's part of what attracted her to Clarence in spite of herself.
5. Being wet sucks. Bridget hates rain and ends up almost assaulting Clarence with hair dryers whenever he comes back in from running around in it.
6. Flying Scot. Her Renault Clio is named 'Jackie' after Sir Jackie Stewart.
7. Accessorize! When she was still a student, she wore a lot of different bows in her hair. She ditched them at university in an attempt to look more grown up, but she's saving them to hand down to a potential daughter.
8. Well, they taste good… She always has muffins with her breakfast.
9. Dress as the opposite of what you are, they say. She really likes pastels and other muted colors. She has a bold personality, but she likes to wear things that are gentler than how she acts, talks and drives.
10. I'm right! Bridget is one of the few people who can go toe-to-toe with Clarence on anything. If she disagrees with him on anything, expect a fight.
11. And so they fell in love. She realized she liked Clarence when she went to university and noticed that she missed arguing with him over little things. (They tend to agree on the big things.)
12. They're pretty, I've read! Bridget has grey eyes, much like Stacy. However, she likes them since Tolkien's most legendary beauties have grey eyes.
13. I'm mulling it over… She has a habit of twirling her pen when she's working. The harder she thinks, the faster she twirls.
14. Senna. She has a parakeet named Ayrton.
15. Starting off young… Bridget was bitten by the racing bug as a kid when nobody was able to beat her at Mario Kart 64.
16. Bumper cars. There is one instance in which Bridget is fine riding shotgun – when Clarence is driving a dodgem car.
17. Bilingual. Almost. She actually speaks fairly good French.
18. Stig mode? When she focuses on driving, she becomes completely silent.
19. You suuuuure? She gets her somewhat suspicious nature from her parents. Clarence is deathly afraid of them.
20. Nothing like the wind in your face! Bridget is also an avid rollerblader.