20 Facts: Clarence Fulton
on
October 4, 2012
at
2:20 pm
We apologize in advance if anything Clarence wears ever makes you go blind.
Also, someone needs to tell him it's not cool to pose when your car is parked horizontally on an incline and is tilting downwards on one side.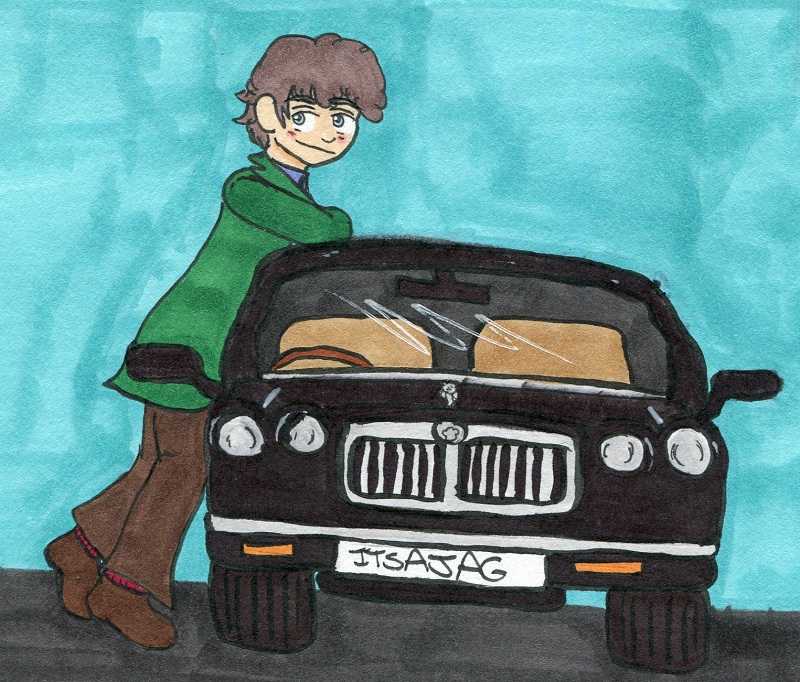 1. POWEEEEEERRRRR~! Clarence enjoys things with copious amounts of horsepower, especially if they're used to demolish things. He loves the demolishing side of engineering.
2. Are you blind yet? He wears extremely obnoxious clothing on purpose for the sole purpose of offending people. He enjoys doing this more than he should.
3. I'll just yell until it works, natch. Raising his voice is his solution to more problems than it should be. He has yet to realize that machines don't work better if you shout at them.
4. It's warm… As strange as it is, he likes being held by Bridget, especially if she hugs him from behind when they go to sleep.
5. Aaaah, right there… He'll also melt under massages. Hitting the right spot makes him kick like a dog, but only Bridget knows where that is.
6. Domestic, erm, bliss. He fell in love with Bridget because she argued with him over petty things when they were in secondary school. One day he realized that arguing over silly things happens in marriages, and, well, there you go.
7. STOP! HAMMER TIME! He never goes anywhere without a hammer. He really, really loves hammers.
8. Hey, wait up! He loves driving fast, although he's never quite been able to keep up with Bridget. He tries to, though.
9. Surprise! It's edible! He enjoys curry – so much so that he can actually cook it, which usually surprises anyone he tells this to.
10. LOSERS! He enjoys gloating over things that he beats Rory and Clyde at. He used to gloat over Bridget, but he's afraid to now.
11. Hi Ho Wolverhampton! Clarence was born in Wolverhampton and is a devotee of the Wolverhampton Wanderers (aka the Wolves).
12. In his blood? Because he spent his early years in Wolverhampton before moving to London, he fell in love with engineering as a young boy. Wolverhampton is known for engineering, especially of the aerospace sort.
13. It just makes me emotional, okay? The Ayrton Senna documentary makes him sob. He usually ends up curled up under a blanket on the couch crying whenever he watches it.
14. How's the weather up there? He's the only member of the cast taller than Karen at 6'5″.
15. Deluges are fun! He loves rain. He's been known to go run around in it. However, he loathes driving in it.
16. They're making me thirsty… He does his best engineering work when he's eating pretzels. He has absolutely no explanation for this.
17. Sorry, that's race day, I can't. He has an obsession with Formula 1 and his schedule revolves around it. He's cancelled social occasions before when they turned out to be on a race day.
18. You drive a WHAT? He has yet to let Clyde hear the end of it regarding Clyde's MG.
19. Occasionally motivated. He's really lazy, but if something bothers him he'll see it through until the end. This can range from solving an engineering problem to dinner with Bridget's parents.
20. Disguised affection. Very few people see his soft side. He buries it extremely well and has a habit of teasing people he cares about to let them know he cares.