20 Facts: Karen Cunningham
on
September 16, 2012
at
3:23 pm
Karen strikes fear into the hearts of pretty much everybody. For good reason, though. She's actually scary.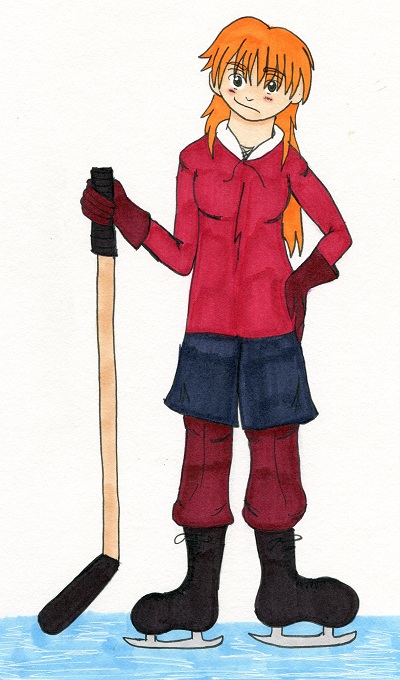 1. I've got all my sisters with me! Karen is the oldest of five siblings. She has two siblings (one in college, one in high school) and two twin brothers who are in their last year of middle school (8th grade).
2. Rink rat. She's been playing ice hockey since she was eight years old.
3. Family tree. Karen's closeness to her family is what inspired her to become a genealogist.
4. Calming caffeine? She likes getting coffee with co-workers, usually coffee buddy Ells, because it lets her clear her head. A Karen with a not-clear head is a dangerous Karen.
5. Title IX. Karen's high school didn't have a women's hockey team, so she played on the boys' team. She dealt with sexism from opposing teams and coaches as a result, but responded to it by showing them she could keep up. Frequently, this happened when she won on-ice fights.
6. Natural leader. Rugen calls her 'Sarge' because she's taken on a sort of non-com leadership role at the historical society. (It's also a throwback to her original incarnation as a character, when she was a sergeant.)
7. Raindrops on roses and whiskers on kittens… Karen's favorite things are hockey, her family, her Irish-Scottish heritage, explosions, heavy weaponry, action movies, coffee, and doing family trees, not necessarily in that order.
8. She cares! She has a gentler side – she'll look after her friends and genuinely cares about them and their feelings. She's the same way with her siblings and parents.
9. "You're drunk, ma'am." Karen has been known to pick Rugen up, sling her over her shoulder, and physically carry her out of bars.
10. "Watch me make it RAIN!" If anything the historical society does requires the use of a machine gun, the task inevitably goes to Karen. (Chris is more of a sniper.)
11. "You can be too tall…" Karen struggles with dating. A lot of men aren't into dating women who are taller than them, especially ones who play hockey and could beat them up. She tries to meet men every so often, but it never seems to go well.
12. "…and I'm tall enough." She usually wears shoes without heels. Her rationale? "I don't need to reach things. I already can."
13. Five more minutes… As athletic and active as she is, she loves sleeping in.
14. Gunner Cunningham. One of her dreams is to operate the gun on a tank. (Ells is around to drive, after all.)
15. I feel pretty… When she's not in a hockey jersey, she loves wearing long, flowing cloaks and sweaters. Bonus points if they're made in Ireland.
16. Reminder of home. Karen has a Celtic cross that she wears almost every day. Her parents gave it to her when she first left for college.
17. Taters! Karen loves mashed potatoes and has been known to eat way more of them than normal people do at holiday dinners.
18. Master seamstress. Although she doesn't look like the type at all, she can sew really well. She's repaired more outfits for people than she can remember, but she's really embarrassed that she's good at it.
19. Reading! She enjoys Tom Clancy novels.
20. "You said WHAT?" If you threaten her family or friends, she will beat you up. She isn't an enforcer for nothing.